"If you want something finished quickly, hand it to the busiest person in the room" – Jenny Craig (my Mum). I never thought I'd be the person who people came to for help. Since I discovered the joys of volunteering, I have always wanted to be busy, signing up for new projects and meeting new people.
Three years ago, I felt a bit lost, without direction and little experience in the working world (apart from the odd waitressing job – all fantastic experience too, I may add). I was introduced to the Meadows Festival Association (MFA) in 2015 and decided to take the plunge and join the committee in January 2016. At this point in my life, I had decided that I wanted to turn my love of festivals and events into a career. By joining a voluntary festival committee, I knew that I would have the ability to gain hands-on festival experience, in all areas of festival management, without needing to undertake interviews and start at the bottom of the ladder – and I was right! The committee welcomed me with open arms, allowing for my creativity to flow and new ideas and processes to be brought to the table.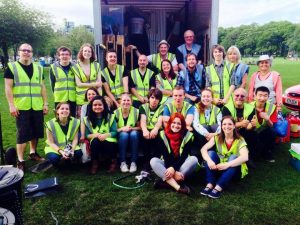 In my first year, I enjoyed volunteering during the festival weekend, learning about the organisation and gaining experience in how things were managed on site. With experience in organising a sports team (my University netball team) and a passion for everything 'green' I offered to revive the Sports Area of the festival for 2017, and to bring into place a new Green Initiative Plan. The festival expanded from 2 fields to 3 fields (something that I was proud to be a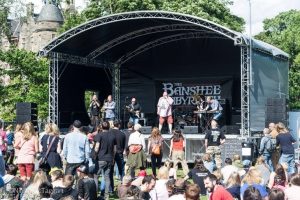 part of!) in order to accommodate the Sports Area, and I began to expand my network of contacts in Edinburgh in order to organise a programme like no other. The Sports Area was a huge success and the festival won an Improvers Award from 'A Greener Festival' who assessed our new Green Initiatives.
This year, I was elected Convener of the committee and decided to focus my attention on recruiting new volunteers, like me, who wanted to gain that hands-on experience I am so grateful for. Splitting into sub-groups, we advertised for sub-group volunteers to join the MFA and focus their skills and expertise into the areas they had a passion for: music, environmental sustainability, performance, social media, web design, communications and fundraising. The sub groups hit the ground running and supported the committee hugely in tasks that would normally take triple the time to complete: such as listening to over 250 music applications to play on the festival Main Stage!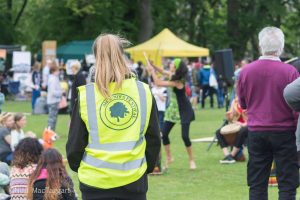 I am so incredibly grateful for the wonderful experience I have gained from volunteering with the MFA. This experience kickstarted my career and I now work full time as the Regional Fundraising Coordinator for Scotland for a charity, organising charity events around Scotland, a post I would not have been offered without 2 years of experience at the Meadows Festival.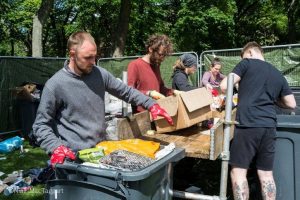 I now relish being "the busiest person in the room", helping others with tasks they need completing, full of confidence in my abilities. Volunteering with such a fantastic organisation has allowed me to thrive, meet incredible people with similar outlooks on life, and gain friends for life. I have learnt that community spirit and engagement is all that matters. Helping others in order to help yourself.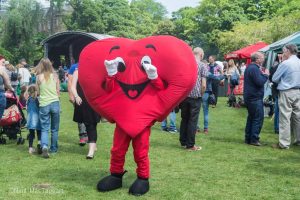 Join the Meadows Festival Volunteer Team here! Meet fantastic individuals, enhance your skills, grow your network and enjoy every opportunity that presents itself to you.
Huge thanks!