Following a referendum on Thursday 23 June 2016 to decide whether the UK should leave or remain in the European Union (EU), more than 30 million people turned out to vote, with a majority of 51.9% choosing to leave (a.k.a 'Brexit'). Prime Minister Theresa May triggered Article 50 on 29 March 2017, beginning the two year process of leaving the EU:
Why this is important to the voluntary sector in Scotland
SCVO and its members believe that the EU has broadly been good for Scotland and Scotland's voluntary sector. We support measures to ensure that the many protections we currently enjoy are not jeopardised – read our full briefing on what Brexit is likely to mean for the voluntary sector or take a look at our key messages.
SCVO has a long and active history with the European Union and European civil society, working with out partners and networks across Europe on areas of mutual interest. These include shaping and influencing policy, providing information and representing the interests of the sector in European Funding, encouraging and promoting participative democracy, sharing best practice from across Europe, collaborating on joint projects and providing up to date information and advice to our members and partners.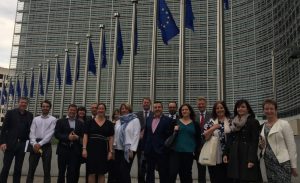 A delegation of representatives from Scottish voluntary sector organisations visited Brussels in May 2017 to engage with the institutions of the EU, to make the sector's voice heard, let hosts know that Scotland's voluntary sector is overwhelmingly pro-European and making clear the frustration at the lack of space for civil society in the ongoing debate.
News
#EUareValued
Here at SCVO, we love charities. We believe every person who works to make a difference to Scottish communities should be valued, and that includes our colleagues who have come from other EU countries to live and work here. Scotland's voluntary sector is strengthened thanks to their contribution. Find out more about our #EUareValued campaign here.
Resources
Click here for the latest reports, briefings and papers on topics relevant to Brexit and the voluntary sector. Alternatively, join our mailing list for all the latest news.
If you have contact with European networks and institutions, or collaborate with them on any issues, please help us build a more accurate picture of the networks and projects the Scottish voluntary sector is involved in by completing our European Connections mapping survey.
The Scottish Centre on European Relations is an independent and unaligned EU think tank, based in Edinburgh. Take a look at their website for their latest policy analysis, comment and events.
Events
Watch this space for upcoming events.
Page last modified on 16th August 2019