Children's Hospices Across Scotland (CHAS) tell us how they have streamlined volunteer communication for the digital age and created their own chatbot.
Important: Opinions expressed by Digital Pioneer interviewees are their own and don't represent those of the Scottish Council for Voluntary Organisations.

Morven MacLean, Volunteering Development Manager at Children's Hospices Across Scotland (CHAS) tells us more…
Tell us about Children's Hospices Across Scotland!
Morven: We are Scotland's national children's hospice service and we support and care for families across Scotland. Wherever and whenever families need us, we are there for them. We support children from birth until the age of 21. CHAS provides respite, emergency, end of life, emotional and practical support.
We help families to celebrate the lives of their children whilst they are together – and to honour their memory after they are dead, because we know memories are important to families. For children and their siblings this can be getting involved in music, art, and expressing themselves in lots of creative ways, fun trips out or a much needed listening ear from one of our staff; for parents it can be emotional and medical advice and some much needed alone time – either to spend with each other or their other children and there are always fun or special activities and events for the whole family to enjoy.
Three children die each week in Scotland from a life-shortening condition. At the moment CHAS reaches just one in three of those children. We involve over 860 active volunteers who raise funds and help us to deliver our vital service in Scotland, furthering our mission to reach every child and family in Scotland that needs our support.
How have you been using digital?
Morven: We harness the power of digital to help us reach every family in Scotland who needs us on a daily basis. We have an active presence across social media, and have recently relaunched our website, to best ensure we are meeting the needs of families who seek out our support.
The potential that digital offers in how we may deliver care and support in the future is considerable. We know digital technology can play a role in opening up our services to many more people. Our Lens programme which encourages staff and volunteers to develop new ways to deliver and expand our services will play a key role in having new ideas in how we can harness technology in our work.
Tell us about a recent digital change you've made.
Morven: In November 2017, we launched Workplace by Facebook with our volunteer force, in order to streamline volunteer communications and drive engagement. Workplace is an internal communications tool which aims to flatten hierarchy, and connect people across organisations. It's a fairly new product launched by Facebook and it's predominantly used by the private sector however charities are starting to adopt it for employees. We have not come across any other organisations using this for volunteers yet although we know many charities are starting to explore the potential.
We have created a chatbot on Workplace called CHASbot for volunteers to interact with. This is an integration hosted by Heroku. CHASbot has been developed and programmed by a volunteer with digital skills. CHASbot can answer volunteer's questions, direct them to useful resources, inform them about upcoming events in CHAS and also tell jokes and play games. He can be contacted through the instant messenger function on Workplace.
We launched Workplace in November after a short pilot. Over 500 volunteers signed up in the first six weeks.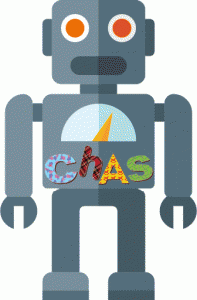 What motivated you?
Morven: An engaged volunteer force is critical to the success of CHAS's ambition to reach every child in Scotland who needs us. Effective communication is one of the key drivers in our approach to volunteer engagement.
With a diverse volunteer base, it's difficult to find a communication method to suit everyone. A recent review revealed that volunteer communications were ad hoc, inconsistent and one-way; volunteers wanted timely, relevant communications and a chance to share their views and network with others. They also favoured online communications, specifically apps that could be accessed on tablets and mobile phones.
How did you go about it?
Morven: A working group, chaired by a volunteer, was established in order to improve communications and identify an online communications platform, as requested by volunteers. The group researched options and decided that Workplace by Facebook was the most suitable platform. The working group consisted of staff from IT, Communications, Volunteering and Fundraising as well as two volunteers – one with a digital background and passion for programming and one with a project management background (the Chair).
The working group planned employee and volunteer communications, delivered a pilot and planned content for the first few months, identifying key people to blog.
Who was involved?
Morven: The Volunteering Department led the project with the support of volunteers, and colleagues in Communications and IT.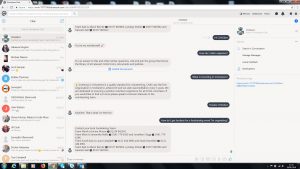 What's been the impact?
Morven: Workplace has strengthened the volunteer voice and improved the two-way communication with the organisation significantly. Volunteers have told us that they now feel more informed and connected to the organisation. They are networking with one another, sharing their volunteering highlights and also signing up for new volunteer roles and fundraising events that they wouldn't previously have known about.
Facebook analytics have allowed us to measure success and our statistics prove the platform's success. We have harnessed digital technology (Workplace and the use of bots) to transform our volunteer communications and drive engagement.
The platform allows the CEO and senior leadership team to see the volunteer activity taking place across the organisation and recognise them for their efforts. It allows us to disseminate current news and relevant communications instantly and to respond to volunteer questions immediately. Volunteer managers are using Workplace groups to communicate with their teams about shifts, team news and updates. They are using the instant messenger to catch-up on a one-to-one basis with them and it also allows volunteers the chance to blog about their volunteering in CHAS.
We no longer spend money on posting communications and staff time is freed up as we don't need to communicate in a variety of ways. All communications are now channelled through Workplace.
Volunteers are without doubt more engaged as a result of Workplace. Feedback has been really positive with volunteers posting on CHAS Community (our main group on Workplace), that this is what the organisation needed and they are really pleased that it has been established.
We are using Workplace Facebook analytics to measure the success of the platform and are producing monthly reports from November 2017 until April 2018 in order to monitor engagement and impact.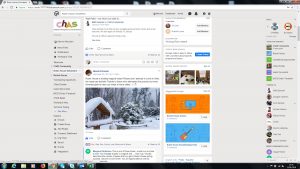 Any challenges?
Morven: We encountered a small number of volunteers who, upon the launch of Workplace, were reluctant to sign up. Fortunately this number was smaller than we had anticipated. We found that many of our older volunteers used Facebook in their personal lives and because the navigation and functionality of Workplace is the same, they found it easy to use and weren't intimidated. A small number complained that they did not see why we had to make our communications digital as they preferred to receive letters or phone calls.
When launching Workplace with volunteers, the communication was written by the two steering group volunteers. They explained to volunteers that this platform was developed because in recent focus groups, volunteers told us this is what they wanted.
Any advice?
Morven: Identify volunteers with digital/programming skills and volunteers who can champion the platform across all departments.
Involve employees and sell the benefits of digital to them so that they are on board and understand Workplace or any digital change before you launch it with volunteers.
Provide training for staff (we did this over Skype) so that they are familiar with the platform and can help volunteers to sign up and use the platform.
What's on your digital horizon?
Morven: What we do know about digital is that we must always be exploring the art of the possible – indeed even the impossible. As technology evolves CHAS will always look to see how we can harness it – from the efficiencies of a paperless office – to the ability to demonstrate impact to our supporters via virtual reality hospice visits – to how technology plays a role in how families access support – at the bedside and in how it supports our nursing teams to deliver the very best in palliative and end of life care.
What's digitally inspiring you at the moment?
Morven: Sheryl Sandberg, Chief Operating Officer of Facebook – I love her philosophy of innovation. Facebook really listen to their users and make constant improvements. An example of this is that they recently made Workplace more accessible for visually impaired people by making it e-reader compatible after feedback from users with visual impairments.
---
Thanks to Morven from Children's Hospices Across Scotland for sharing how they're using digital in the voluntary sector. We hope that the digital tools mentioned and their approach have inspired your voluntary sector organisation. Don't forget to share it with your networks to keep the inspiration flowing and tell us what you think @digiscot using #digiscotpioneers.
If you'd like to help spread some more digital inspiration across the voluntary sector then get in touch with us @digiscot and digital@scvo.org.uk. We'd love to hear from you and share it with our networks!
Page last modified on 23rd January 2020