Here at SCVO, we love charities. We believe every person who works to make a difference to Scottish communities should be valued, and that includes our colleagues who have come from other EU countries to live and work here. Scotland's third sector is strengthened thanks to their contribution.
For many decades, citizens of other European nations have been free to travel to and work in Scotland, which has been of huge benefit to our country both culturally and economically. However, following the European Union referendum this freedom looks set to be curtailed, as the terms of Brexit mean that all EU citizens and their families in the UK will have to apply for permission to stay.
Despite not legally being required to leave Scotland, many EU nationals no longer feel welcome or confident enough to stay in Scotland long term. Already, many EU nationals who have called Scotland their home are choosing to move away. According to the Office for National Statistics, 117,000 EU nationals left the UK in 2016, the year of the referendum – a 36% increase on 2015. This is partly due to the outcome of the referendum, the rhetoric used throughout the campaign and the media coverage of it.
While the third sector can do little to influence immigration policy, we believe that as employers and employees, there is much we can do to encourage our EU friends and colleagues to stay and continue to make Scotland their home. It is crucial that we show solidarity with our European colleagues, make it absolutely clear that they are still very much welcome in Scotland, and to support them to continue doing the great work they do in our communities.
We know for third sector organisations (and frankly, anyone) it's difficult to take the time to grasp the intricacies of the ongoing Brexit debate. So we've created this page with the aim to help you – third sector employers and employees – understand the background, the changes affecting our EU colleagues, and how you can support them to continue to feel welcome and valued in Scotland.
First things first – EU are Valued!
It is important to remind our EU colleagues that they are valued, they are welcome, and that we want them to stay and feel safe in our society. Incessant negative or harmful reporting around Brexit and the associated rhetoric in the press has a demoralising effect on many of us, but can be particularly hurtful to those it is clearly targeted against. We have a responsibility to counteract that. Talking to EU colleagues and asking if there is support or assistance they need is an important first step.
Background
There is no need for EU citizens living in Scotland to do anything for the moment. There will be no change to the status of EU citizens living in Scotland while the UK remains in the EU. However, following Brexit, there will be changes.
In December 2017, a new deal was reached between the EU and the UK. For EU citizens and their families, this will mean:
• People who arrive by 29 March 2019 and have been continuously and lawfully living here for 5 years will be able to apply to stay indefinitely by getting 'settled status'. That means these citizens will be free to live here, have access to public funds and services and (if they want) go on to apply for British citizenship.
• People who arrive by 29 March 2019, but won't have been here lawfully for 5 years the UK leaves the EU, will be able to apply to stay until they have reached the 5-year threshold. At that time, they too can apply for settled status.
• Family members who are living with, or join, EU citizens in the UK by 29 March 2019 will also be able to apply for settled status after 5 years in the UK.
• Close family members (spouses, civil partners and unmarried partners, dependent children and grandchildren, and dependent parents and grandparents) will be able to join EU citizens after exit under these rules, where the relationship existed on 29 March 2019 and continues to exist when they wish to come to the UK.
• Those who already have 'indefinite leave to remain' status will not be affected by the UK's exit from the EU. So, providing EU citizens can show evidence of having been granted this status, they will not need to make any further applications for documentation.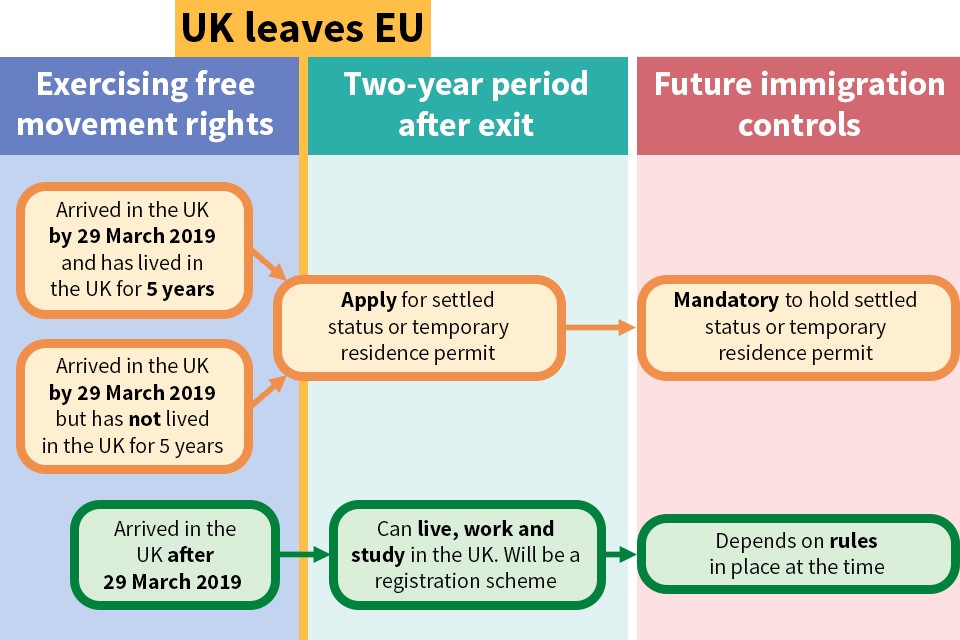 Applying for settled status
EU citizens and family members will eventually have to make an application to the Home Office to gain 'settled status'.
The Home Office have sought to assure the EU and EU citizens that the process for gaining settled status will be made as simple as possible. It is expected that the application process can be carried out online and will cost in the region of £70. The Home Office will not check that applicants hold comprehensive sickness insurance and they will not have to account for every trip taken in and out of the UK.
The Home Office have also advised that (where possible) they will draw on information they already hold (e.g. employment records held with HMRC) which should reduce the amount of evidence applicants need to supply. However, we would still advise that you keep any relevant documents in a safe and easily accessible place just in case they are needed.
Case Studies
Immigration policy can seem like a difficult to understand or broach, but actually hearing from the people who are affected by it can make all the difference – and often tell you everything you need to know to better understand the situation.
These case studies, put together by the Home Office, may be of some use to EU friends and colleagues.
Challenging Hate Crime
Worryingly, between May and September 2017 Crimestoppers experienced an 88% increase in all hate crime contacts and a 40% increase on contacts regarding racism, compared to the previous five month period. Incidences of hate crime and racially motivated attacks can have a devastating impact on both the victim and their families. If you have any information about hate crime, you can contact Crimestoppers anonymously on 0800 555 111 or via their Anonymous Online Form.
In some cases victims/witnesses of Hate Crime do not feel comfortable reporting the matter directly to the Police and may be more comfortable reporting it to someone they are familiar with. As such, Police Scotland works with a wide variety of partners who perform the role of Third Party Reporting Centres. Staff within Third Party Reporting Centres have been trained to assist a victim or witness in submitting a report to the police and can make such a report on the victim/witnesses behalf. Find your nearest Third Party Reporting Centre here.
Useful resources
As with all things Brexit, the goalposts seem to be continuously moving. At SCVO, we will do our best to update this information regularly, and have a European Network e:bulletin that you can sign up to for all the latest news.
You can also sign up to these Home Office email updates, to keep abreast of the latest developments.
Campaign group the3million also provide useful information and advice for EU citizens living in the UK.
Read our media release – 'Call for Scottish third sector to show value and support for EU nationals'.
Read Camphill Scotland's report of the key findings from their survey on the potential impact of Brexit on their organisation – Camphill Survey – 13 September 2017.
Read our SCVO Briefing – EU Citizens Welcome
Read our Director of Public Affairs John Downie's blog.
Page last modified on 22nd January 2018